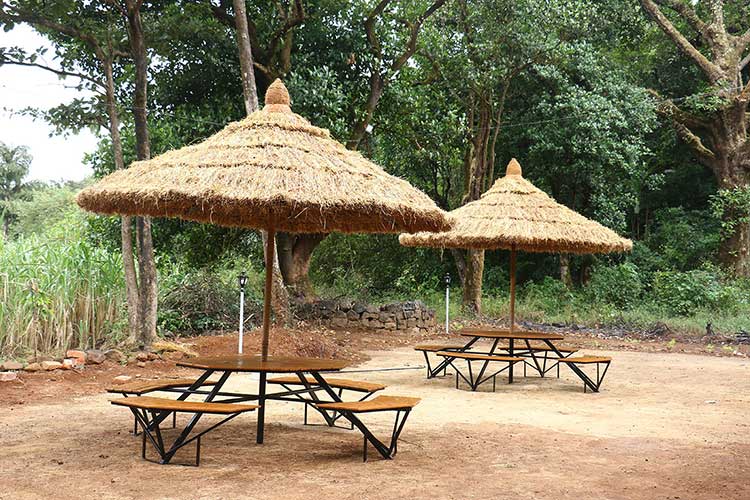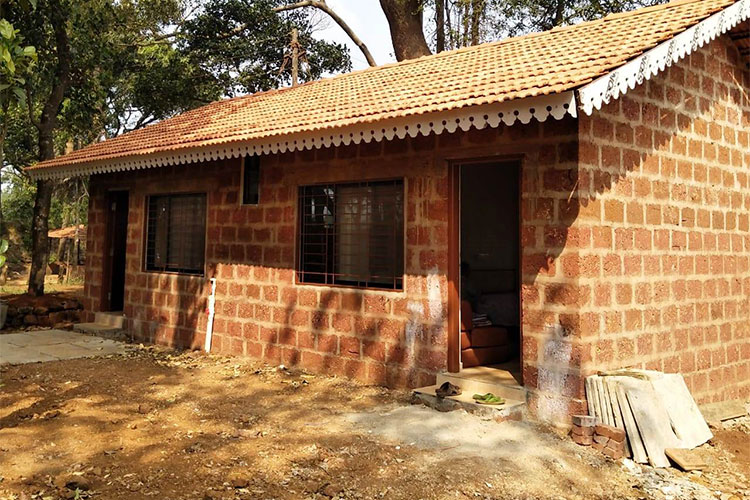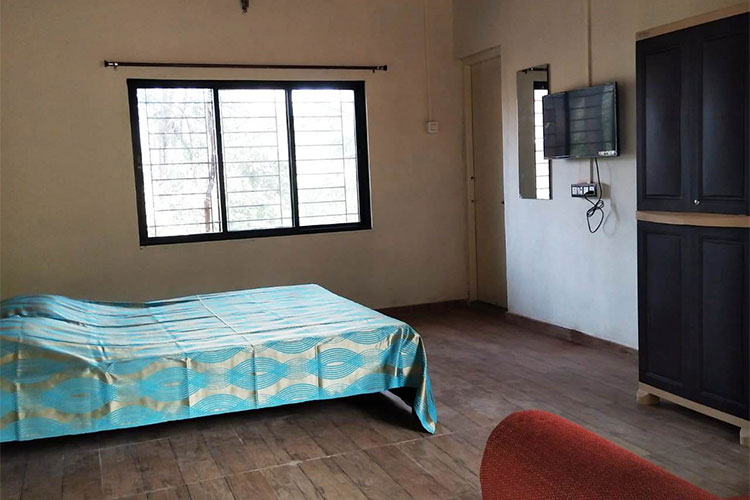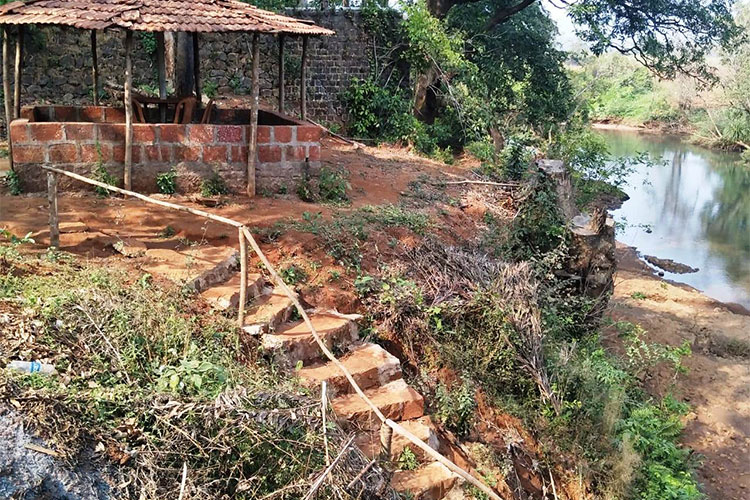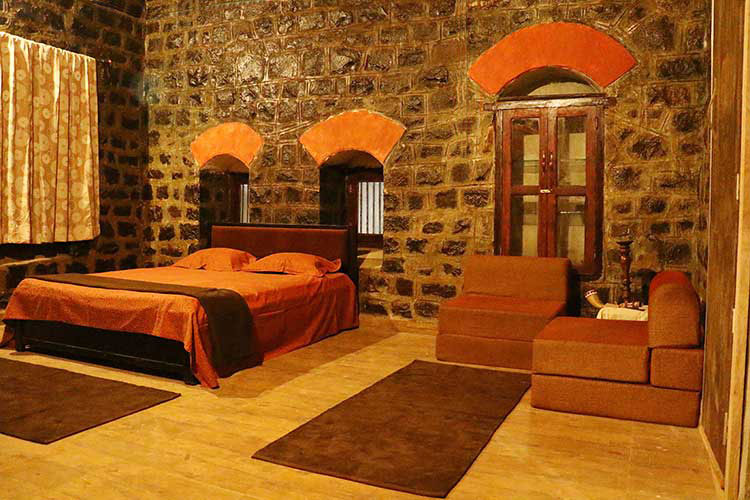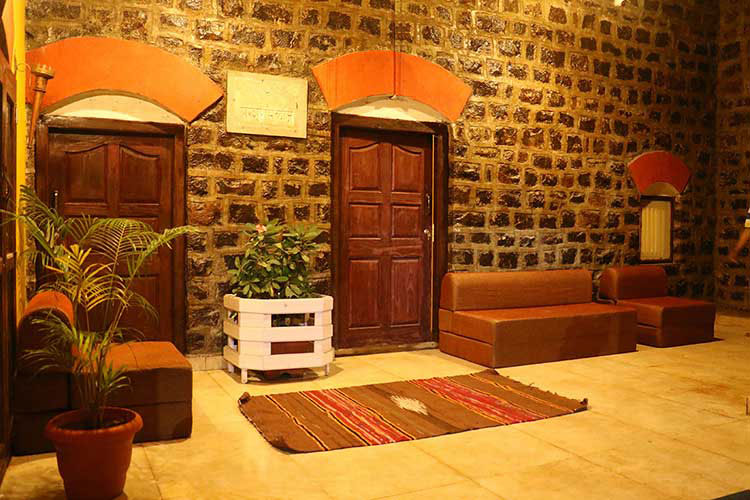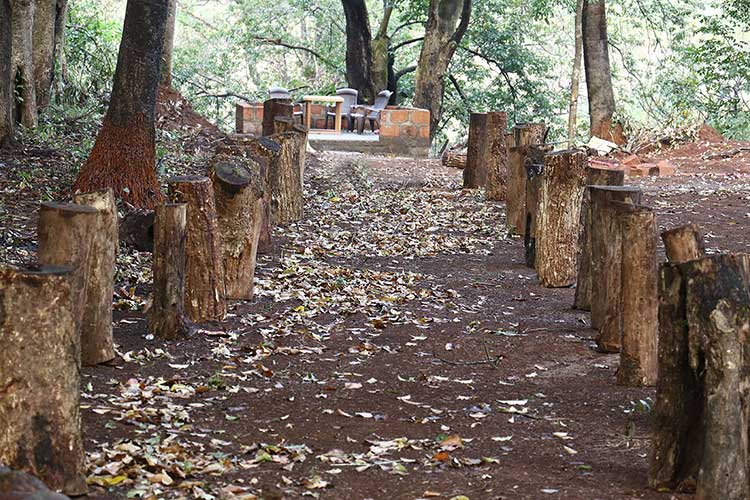 Kaajva : Homestay at Gaganbawada
Kaajva, as the name suggests is a shinning light in the jungles of Gaganbawada. The Unique Jungle (Homestay) in Palsambe, Gaganbavda on the Pune-Goa road brings to you the best of jungle stay on the banks of a small river Kumbhi and surrounded by agricultural farms.
The original structure of Black stone makes the temperatures inside the house cooler. It is also surrounded by ancient trees which makes it a spectacular location. Kaajva hotel has 3 big rooms to offer which can easily accommodate 15-16 people. We have taken care to see that comforts are provided in this well furnished heritage house of 1930's with tastefully decorated rooms. Big sized attached bathrooms are provided along with modern amenities.
A Mini Library is provided with selected books to spend cozy time reading in nature under the trees listening to the chirping of birds and the sounds of insects.
Our outdoor dinning area surrounded by the fields and trees make the home cooked simple Gavran meal Veg and Nonveg a pleasure. Kaajva resort is located among nature in a heavy rainfall area which in turn makes the Flora and Fauna grow in Abundance. You can find innumerable plant and animals in the surrounding areas and the Bio diversity is simply amazing. Also next to Kaajva hotel is a Colonial style Pant Amatya Wada belonging to the historical family of Pant Amatya Bavdekar's who were Highly ranked minister's of THE Chhatrapati's and who also run "Kaajva".
Kaajva hotel is located in Palsambe, Gaganbawda and is 46 kms from Kolhapur on the Pune Goa via Gaganbavda road. Palsambe is a small village next to Kaajva situated in the eastern foothills of the western Ghats which is a world bio diversity hotspot and now a UNESCO World heritage site. The Buffer zone of Dajipur Widlife sanctuary shares its western boundry with the Palasambe village. Goa is just two and half hours from Gaganbavda and can be a ideal stopover before Goa in a very different surroundings. Gaganbawada is 9 kms from Palsambe and has 2 Ghats Karul and Bhuibavda leading to Goa and the Konkan. The views from both the Ghats are simply magnificient.
This region has one of Maharashtra's highest rainfall reaching 5400 mm annually. The temperature are pleasant with a range of 14° to 35° deg.
History
Gaganbavda which is on the Pune – Goa road was the earlier Jagir of the Pant Amatya Bavdekar's stretching from Mutkeshwar to Talere is near the Goa Highway. It's area being around 256 square miles.
It's earlier area consisted of Entire Gaganbavda Taluka of today and many area's of now Sindhudurg district which is in Konkan.
The Most well known person of this family was Ramchandra Pant Amatya Bavdekar who was Finance minister of Chhatrapati Shivaji Maharaj. After him the jagir of GaganBavda was bestowed upon this family and stayed with them till independence.
Kaajva and the adjoining Pant Amatya Wada was constructed by Shrimant Parshuramrao Madhavrao Amatya the 9th descendent of Ramchandra Pant Amatya in the 1030's and last 4 generations of this family has been staying in it.
Activities
Campfire
Campfires are a integral part of Kaajva around which groups get to interact, play various games, have thought sharing conversations.
Relaxing by the River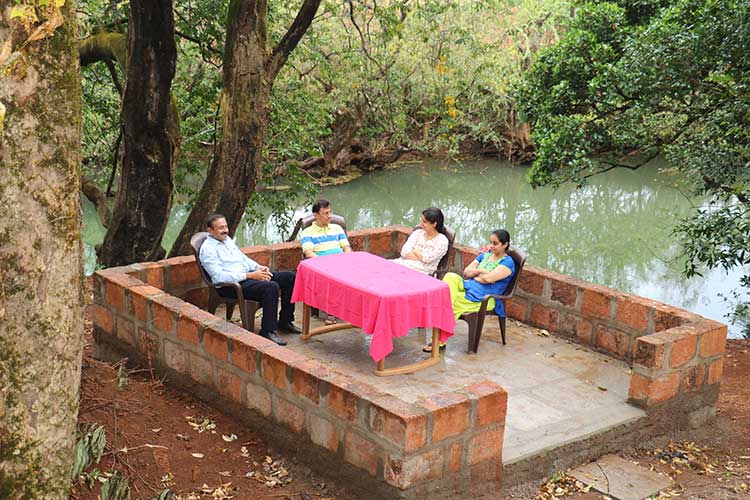 The most amazing thing about Kaajva is that Kumbhi river flows within 200 feet of kaajva and you can carry a book there or just relax by the river. Expert swimmers can also take a dip and rejuvenate by this natural bath.
Nature Trail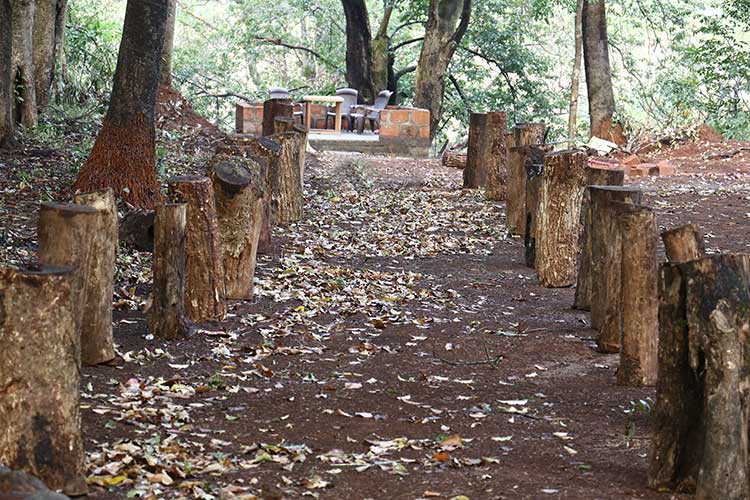 Kaajva is located in a unique area with abundance of flora and fauna. We arrange a nature trail in the surrounding areas which gives you an enchanting experience which exposes you to a range of plant and animal diversity.
Village Visit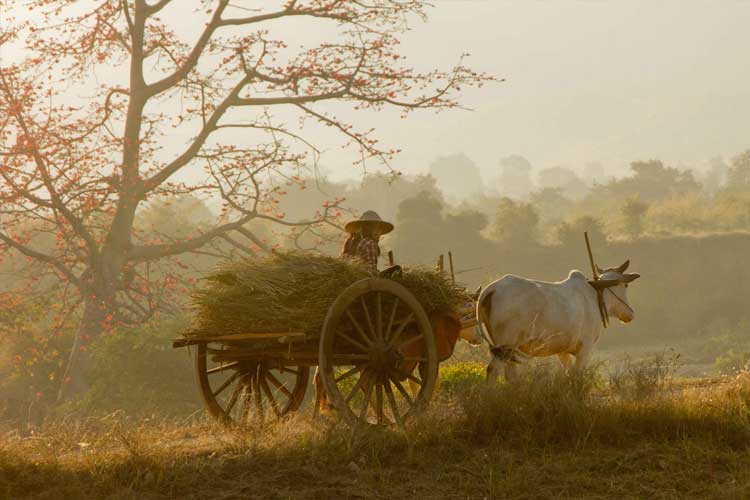 This can be arranged for those interested in have a peep into the local culture. We want you to interact with the villagers, Maybe attend some of their functions or festivals which will give you a insight into their customs and traditions.
Activities at Kaajva Forest Stay - Resort in Gaganbawada
We Offer Accomodation, Breakfast, Lunch, Dinner( Veg or Non Veg as per choice) and Nature Trail of 45-60 minute duration.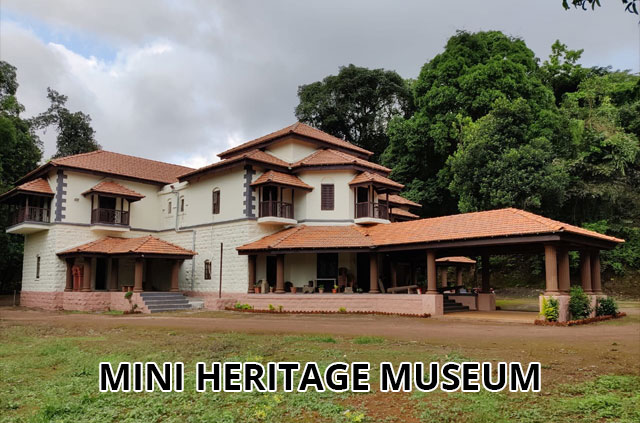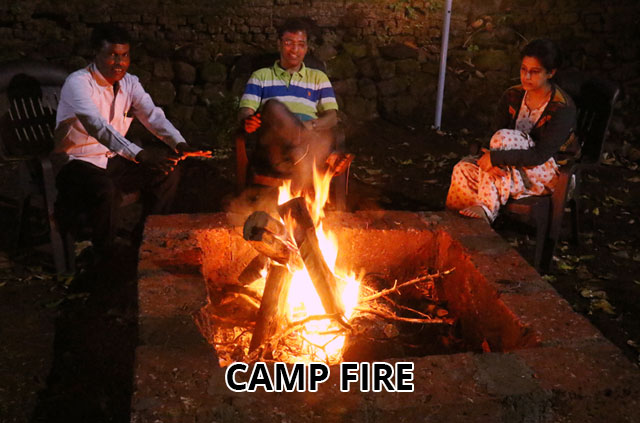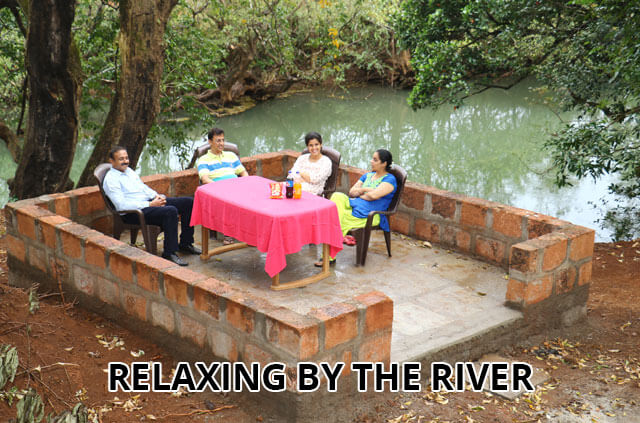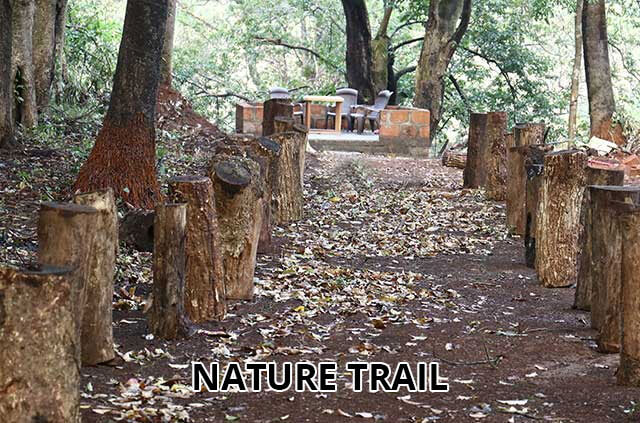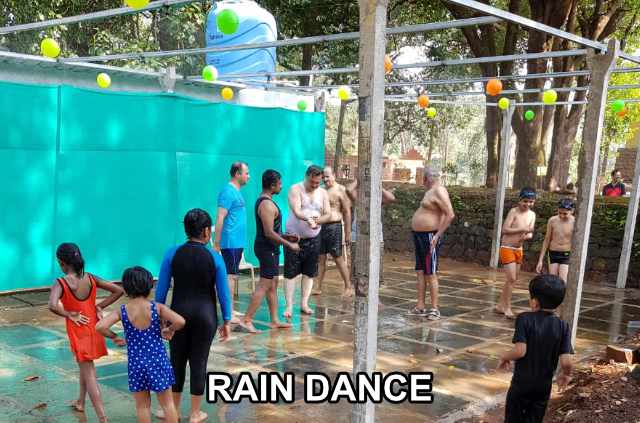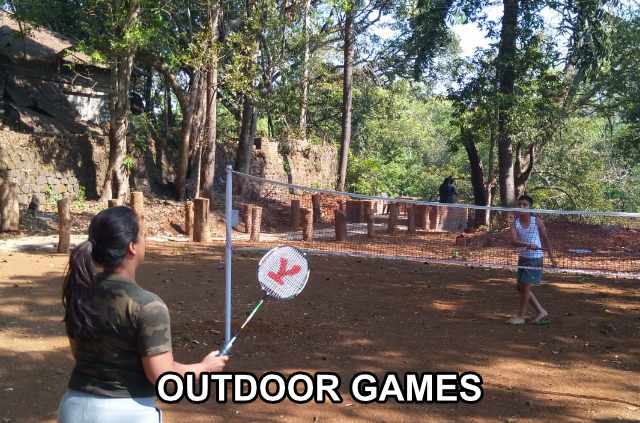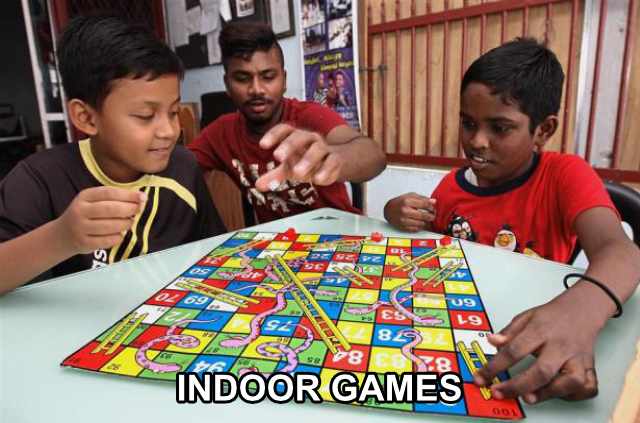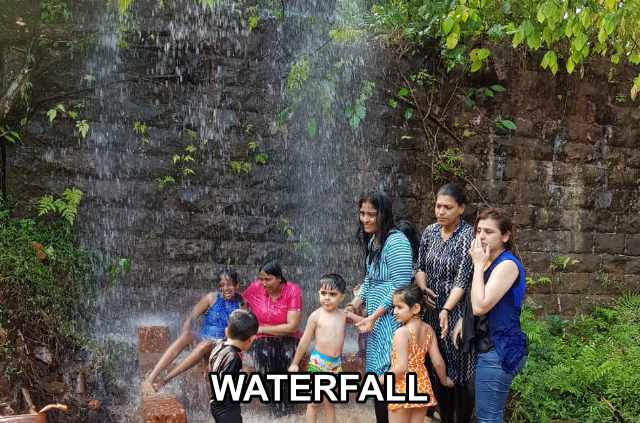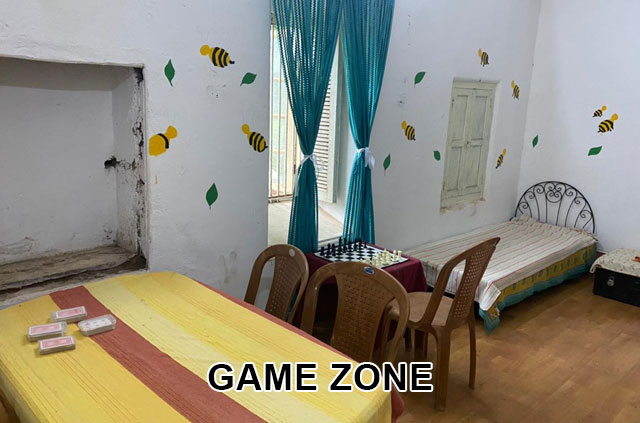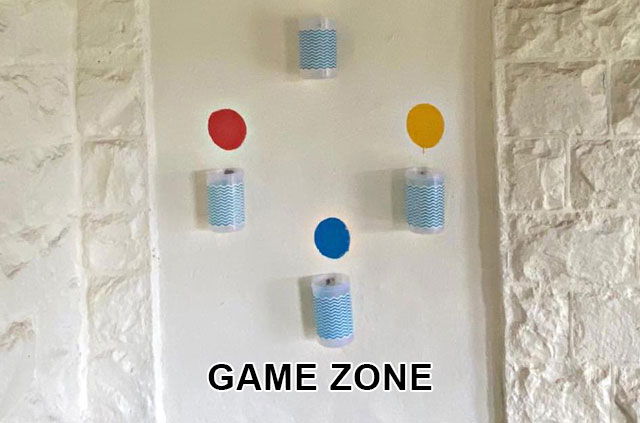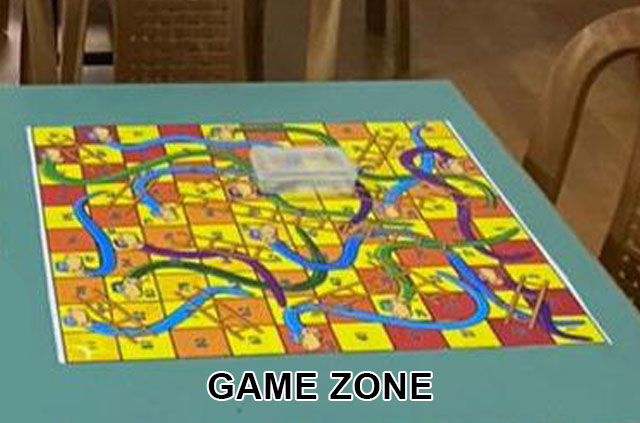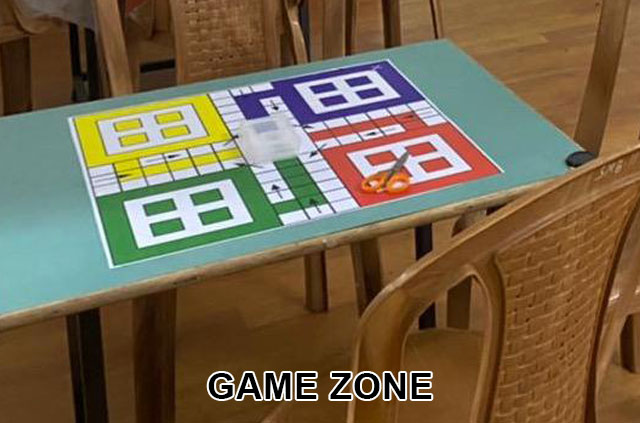 GAGANBAWADA - PLACES OF INTEREST
Kaajva hotel is located in Palsambe, GaganBavda and is 46 kms from Kolhapur on the Pune Goa via Gaganbavda Road. Palsambe is a small village next to Kaajva situated in the eastern foothills of the western Ghats which is a world bio diversity hotspot and now a UNESCO World heritage site.
How to Reach Us
From Kolhapur : KAAJVA is 46 kilometres from Kolhapur on the Kolhapur-Goa Highway via Gaganbawada road. D.Y.Patil Cooperative Sugar factory is opposite to the entrance of Kaajva.
From Goa : While coming From Goa 21 kms after Kankavali on the Mumbai Goa Highway you have to take the right turn from Talere and come through the Karul Ghat to reach Gaganbawada. Kaajva is 9 kms from Gaganbawada.